In the wake of the Thanksgiving holiday, I feel incredibly thankful to have known the great master tailor Joseph Centofanti, who died recently at the age of 93. I started filming Joe for MEN OF THE CLOTH in 2004.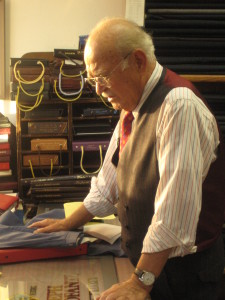 Joe was a past president of the Custom Tailors and Designers Association of America where he received numerous design awards over the last 60 years. In 1997 Joe was named the International Master Tailor of the year at the Congreso Mundial de Maestros Sastres (the World Congress of Master Tailors) in Valencia, Spain. He was named one of the Top 10 Custom Tailors in the USA by the magazine Robb Report.
May he rest in peace.