I've been meaning to write a capsule about this book for some time, but the demands of post-production and fundraising for my film have gotten in the way. Bespoke: Savile Row Ripped and Smoothed is a compelling memoir of how a 17-year-old kid from the London suburbs fell into an apprenticeship at Henry Huntsman & Sons, the bespoke tailoring film on London's famed Savile Row. More importantly, Anderson recounts how this experience 29 years ago transformed his life and gave him a lifelong vocation and a penchant for perfectionism that he never could have dreamed of as a lad.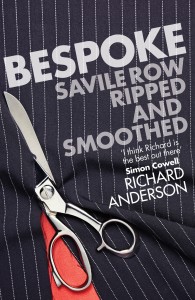 At the age of 34, Anderson became the youngest head cutter in Huntsman's 150-year history. Since 2001 he has been at the helm of his own tailoring firm on Savile Row, Richard Anderson Ltd.
Anderson writes that the first three months at Huntsman caused him "relentless mental and emotional chaos." The environment was like being in the army, "where one must resist being broken down," and where your superiors never let you forget that you're at the very bottom of the food chain.
It's amusing to read that despite all the miles he had run and all the football games he had played as a teenager, this had in no way prepared him for handling the massively heavy cutting shears in the workroom. It's also fascinating to learn about the firm's frequent forays abroad to service its vast American clientele.
Anderson writes movingly about being inducted into the private world of bespoke:
To put a true and properly made bespoke suit on for the first time is a revelation: immediately you take to its positive influence on your posture…you stand up straighter and feel at once more comfortable and confident…that you have it in you to be a better person, a person of unique capacity, sensibility and class. And for me this was like a drug.