The opening scenes of "Schmatta: Rags to Riches to Rags," are set to George Gershwin's incomparable "Rhapsody in Blue," as the screen fills with a visual symphony of spinning spools of thread and images of a once-glorious garment industry that was the biggest single employer in New York City.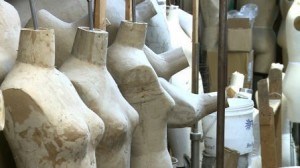 Airing on HBO tonight (with repeat broadcasts through November) this HBO documentary directed by Marc Levin is filled with a nostalgia for a bygone era of American clothing manufacturing, sidewalks crowded with workers pushing racks of clothes down Seventh Avenue, showrooms bustling with department store buyers and garmentos driving a hard bargain….kind of how I remember it all when I was a men's wear market editor.
The black and white archival footage of sweat shops, Ellis Island and the Lower East side neighborhood of countless immigrants is unforgettable. And listening to Stan Herman (past president of the Council of Fashion Designers of America) recount how all the tailors would literally stream out of 530 and 550 Seventh Avenue is hard to imagine when they've now been reduced to the barest trickle.
Against the backdrop of unprecedented losses in U. S. manufacturing jobs, Bruce Raynor, the former General President of the labor union UNITE HERE, reminds us in "Schmatta" that "the garment unions provided for an entree into the middle class. So many lawyers and doctors and politicians and Supreme Court justices — they're one generation out of the garment factories in New York."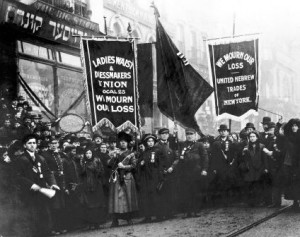 And as we find ourselves in the middle of the Congressional debates on health care reform, Raynor tells us that "the garment industries were really precursors to many of the programs in the New Deal. Social Security, pensions were adopted by the New Deal on a societal basis. It was the lifting of those workers from poverty to the middle class that revolutionized America." Indeed.
Even though I worked for years at Fairchild, the media company covering the fashion industry, watching this film is the first time I've seen a history of the U.S. garment industry that synthesizes so many major turning points: the the strides achieved by the labor union movement; the beginning of the government's move toward deregulation and the breaking of unions in the Reagan era; the uproar over the conditions in sweat shops abroad; the signing of NAFTA during the Clinton years (and the devastating effect on domestic clothing manufacturing); the rise of celebrity designers; and the financial meltdown of recent memory.