Production Crew
Vicki Vasilopoulos (Producer/Director) is
a Greek-American journalist whose articles have been published in The New York Times, Esquire, New Jersey Monthly and Time Out New York. She spent over a decade as Senior Fashion Editor at WWDMen's (formerly DNR), the men's newsmagazine of Fairchild Publications. Her wide-ranging responsibilities included  producing designer photo layouts, reviewing runway shows and writing fashion features. As a member of New York Women in Film and Television, Vicki has served on the screening and selection committee for its monthly film series showcasing the work of emerging female artists from all over the world. MEN OF THE CLOTH is her directorial debut and had its world premiere at DOC NYC, the largest documentary film festival in America. The film was screened as a work-in-progress at the IFP's Independent Film Week in New York City. It was the opening night film at the Craft in Focus Festival in Amsterdam, The Netherlands, and was voted an Audience Favorite at the Three Rivers Film Festival in Pittsburgh. MEN OF THE CLOTH has screened theatrically in arthouse cinemas across the U.S. as well as in Canada and Australia.
Sandrine Isambert (Editor) was the first editor at the human rights organization Witness, where she edited over 15 documentaries and trained activists on effectively using video in their advocacy work. Her credits include Persons of Interest (2004 Sundance Film Festival) and Behind the Labels: Garment Workers on U.S. Saipan (2002 Human Rights Watch International Film Festival). Sandrine freelances at NBC Universal, where she edits shows for MSNBC, History Channel and Bravo. Sandrine has Bachelor degrees in Architecture and Film Studies from Ecole d'Architecture de Paris-La-Villette and Université Paris 8 in France.
David Gaynes (Director of Photography – U.S.)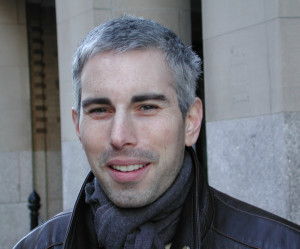 has directed and produced award-winning documentaries that have been distributed nationally. More Than Skin Deep won Best Documentary at the US Super 8/Digital Video Film Festival, screened at the Director's View Film Festival and was distributed to Public Broadcasting. Steps to the Statehouse, a political documentary that was a collaborative project with PBS-station WCNY won regional press awards in 2000. Keeper of the Kohn (2005), a documentary feature on a mildly autistic man's struggle to make a contribution and gain acceptance as a lacrosse field manager, was featured in USA Today, won Best Documentary at the 2005 Vail Film Festival and won the audience award at the 2005 Palm Beach International Film Festival. It was distributed to PBS stations nationally through NETA. David's latest project as a director is Saving Hubble, the quirky, subversive story of the people of America's fight to save the Hubble Space Telescope from an untimely death.
Christian Jacks (Director of Photography – Italy) has shot documentaries in China, Vietnam and Cambodia for A&E, MTV, HBO, and PBS. His credits include Cover-up! The Sinking of the S.S. Leopoldville for The History Channel and Last Chance for Peace: Sierra Leone. He also produced several one-hour specials for FR3 and ARTE, including a documentary on the Marx Brothers with Lobster Films.
Andrew David Watson (Director of Photography – U.S.) is a DP and a documentary photographer based in New York. His work for feature films, non-profits and broadcast networks has taken him across the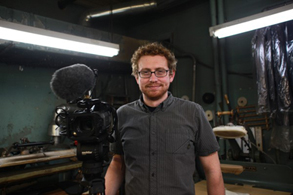 globe — including shooting environmental issues in Colombia, virtual video game economies in China, and non-profit work in New Orleans. Andrew was the director of photography for the Independent Film Channel covering the Obama campaign during the 2008 elections. Andrew has received numerous awards and grants, including the 2007 Best Music Video at the Mexico International Film Festival and the Seattle True Independent Film Festival. His photography has been featured on MotherJones.com and at the CinemAmbiente Environmental Film Festival in Torino, Italy. In addition, Andrew is an adjunct professor in the journalism department at Temple University.
Jonathan Skurnik (Additional Camera – Italy)
has produced, directed and shot numerous award-winning documentaries and has recently completed his first two fiction films as writer/director. His three most recent documentaries include: The Elevator Operator, a documentary about a Ukrainian immigrant who runs a manual elevator in Manhattan. It screened at the Museum of Modern Art, won Best Documentary at the Urban TV film festival in Madrid and had its broadcast premiere on PBS and Ukrainian TV; the award-winning Spit It Out which was broadcast on PBS in 2007; and A Day's Work, A Day's Pay which won the prestigious Harry Chapin award for films about hunger and poverty and was broadcast on PBS and in Europe in 2002.
Additional Camera (U.S.): Robert Pagliaroni, Goro Toshima, David Doyle, Jason D'Aversa
Chris Hajian (Composer) began his musical education at the age of five, studying trumpet under his father, Edward, a professional musician in New York City. Chris' formal training started at New York's famed High School of the Performing Arts, and continued at the Manhattan School of Music, where he studied classical composition. He has composed scores for a wide range of feature films, indies and documentaries. Chris' score for The Take was featured at the 2007 Tribeca Film Festival. Chris wrote the music for Nursery University and most recently Unraveled, which played at the 2011 Los Angeles Film Festival and will have its broadcast premiere on the Showtime Network and theatrical release in April 2012. Most recently the feature documentary First Position which was purchased by IFC/ Sundance Selects for theatrical release in May 2012.
Rosanne De Luca Braun (Consulting Producer) was Director of Development and Marketing for Long Island's Cinema Arts Centre, a leading national showcase for classic and contemporary films, where she curated programs on entertainment, cultural and film-related topics. In 2001 she founded Beachcomber Films, which co-produced the documentary BEYOND WISEGUYS: Italian Americans & the Movies with executive producer John Turturro and with Steve Fischler and Joel Sucher of Pacific Street Films. The film was sponsored in part by grants from the National Italian American Foundation, and tells the untold story of the relationship between Italian Americans and American movies. It began airing in 2008 on PBS stations all over the U.S., and is expected to air internationally in 2009.
Tony De Nonno (Consulting Producer) has produced, written, and directed over three dozen short documentary films, which have been broadcast on every major American television network. His films have won numerous awards at the American, New York, London, Los Angeles, Australian, and San Francisco film festivals. De Nonno's films are in the permanent collection of New York's Museum of Modern Art. His 2001 documentary for PBS, Heaven Touches Brooklyn in July, follows the ancient Italian tradition of the Dance of the Giglio, and was narrated by actors John Turturro and Michael Badalucco.
Interns: Carmela Amabile, Leala Arnold, Diego Balbuena, Heather Brookhart, Jessica Cimoch, Jacklyn Citero, Chelsea Fowler, Pete Hilker, Zachary Koser, Victoria Lombardi, Darren Rutherford, Jason Sacharoff, David Silverin, Matthew Taylor, and Michael Yawn.