Characters
NINO CORVATO
As a young man working in a tailor shop in Palermo, Nino yearned "to be somebody." So at age 20, he left the tailor shop in Sicily for the brighter shores of America, becoming part of the exodus from southern Italy in the post-war era.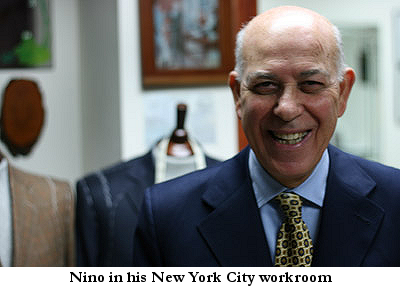 Nino worked for many years as a production manager at Brooks Brothers, and even managed a clothing factory in South Korea. But he never lets go of his dream of having his own label, even turning down a lucrative offer to work for designer Donna Karan after helping her launch her menswear line. He eventually leaves the manufacturing business to open his own tailor shop in midtown Manhattan – starting out doing contract work for other clothiers, and finally returning to a way of working that is a throwback to another era.
Now 74, Nino creates custom-made or bespoke clothing. And he presides over a small cluttered workroom on Madison Avenue, where artisans from six different countries stitch garments for hours on end. Each suit — which requires three fittings and over 60 hours of labor — is as beautiful inside as it is outside, and is invested with pride, dedication and 250 years of collective work experience.
This self-effacing tailor runs his business with boundless energy — greeting clients, overseeing his staff, doing some of the intricate detail work himself, overseeing orders, and sometimes even answering the phone. Nino has incredible pride of accomplishment, and can measure you to perfection; drape the fabric; cut and draft a pattern through a series of calculations; cut the many pieces of a suit; sew them all together; sew the buttonholes by hand; and have the suit hanging on your body as naturally as if you were born wearing it.
There's a look of pure delight on Nino's face as he assesses a pinstriped jacket that was just finished in his workshop. "Look at the pocket," he says. "It's so well put together, it's almost like there's no pocket there — the lines, how clean and perfect they run. That's what you call beauty and perfection."
After 50 years as a master tailor, Nino is one of only a handful of tailors left in the U.S. with his exalted skills. While Nino jokes that he'll work until he's 90, he also realizes with muted sadness that there's no one to take his place. Over the past four decades very few young people have entered the trade, and Nino feels compelled to do something to help his beloved craft survive. Nino, who once taught at the prestigious Parsons School of Design in New York, envisions starting a non-profit school for young tailors, but his huge workload and the never-ending demand for his services has repeatedly forced him to postpone this dream.
CHECCHINO FONTICOLI
After his apprenticeship in his native town of Penne, Checchino decided to stay in Italy and worked for a short time in a traditional tailor shop in Rome. He soon became convinced that the future of his craft lay in "modern tailoring." Interestingly enough, this involved returning to Penne, where he joined the newly opened Brioni clothing factory founded by his cousin, Nazareno Fonticoli. At the age of 20 he re-started his career in an entirely new environment. In this modern factory of artisans, everyone employs their traditional skills in assembly-line production, working towards a common goal.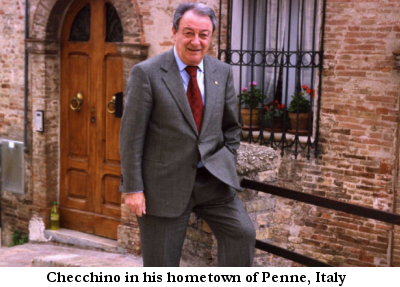 Checchino, now 73, reminisces how as a boy in Penne he would furtively visit his church and pray to Saint Omobono, the patron saint of tailors, to make him a great tailor. This cosmopolitan craftsman traveled the world for decades servicing important clients like Luciano Pavarotti, Nelson Mandela, and Pierce Brosnan, as well as countless kings and heads of state. He eventually advanced to master tailor and chief designer of this celebrated label.
With inimitable grace, Checchino maintains that his work is "definitely a form of art, because you take a shapeless piece of cloth, and you make it come alive on the person." Though he officially retired several years ago, he continued to consult for Brioni. "My problem is that I can't part with my work yet," he admitted. "I'm not ready. Not working makes me feel useless and, in my opinion, it makes you grow old before your time." After 40 years in the public eye, he was recognized by the President of the Italian Republic with a prestigious "Master of Trade" award.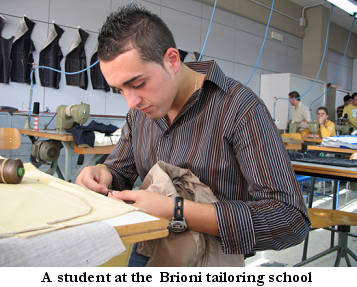 Like Nino, this sartorial maestro is well aware of the dearth of converts to the tailoring trade. Until the mid-20th century there were tailor shops in every town in Italy, but today the number of tailors with these age-old skills is rapidly dwindling, and the village tailor shop is a rarity. Checchino has witnessed this first-hand. Indeed, his other cousin, Antonio Fonticoli, is the sole remaining independent tailor in all of Penne. With puzzlement and affection, Checchino calls Antonio "the last of the Mohicans."
The Old World apprentice system is now a thing of the past, so in order to ensure the survival of custom tailoring, the Brioni clothing firm decided to open a unique school for training young tailors, thus sustaining the region's ancient artisan tradition. In a classroom situated in the medieval hill town of Penne, students as young as 15 are learning this difficult craft from retired master tailors. With perfect concentration, they hunch over their assignments, sewing a piece of horsehair canvas to a chest piece that will become part of a suit. It's a startling picture to see these typical modern teenagers, dressed in T-shirts and sneakers, training for a future in this venerable craft. Because of the success of the Brioni school, Checchino finally comes to terms with retirement, confident that his craft will survive, albeit in a factory setting.
JOE CENTOFANTI
Joe Centofanti, 93, is a master tailor who still works at his shop in Ardmore, PA, a suburb of Philadelphia. This passionate artisan is in his 50th year there now, but he was reluctant to retire because there was no one to take over his craft and clientele. He actually sold his business once, but then realized his mistake, and took it back. Joe no longer has the strength to handle the heavy tailor's scissors used to cut the patterns, so he trudges downstairs to his musty subterranean cutting room to supervise the task while it's done by a hired hand.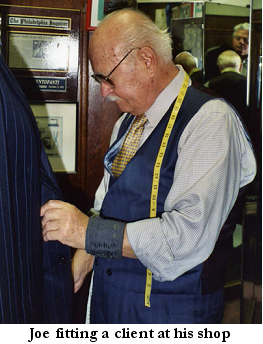 Despite his aging body, he retains traces of his youthful fiery demeanor. In accented English, he says emphatically "no one can do my handwriting – we all have our own characteristics…you express your feelings on the garment."
Though he has an impressive mastery of human anatomy, Joe still proclaims that "life is infinity!" Meaning, of course, that the tailor's art requires a lifetime of learning. And recently, in an exciting development, Joe took on a young college-educated apprentice, who approached him out of the blue and is now learning to make custom suits by hand.