In the last month I've noticed a string of New York garment center-related news. First the New York Times reported that NYC's garment district "is in danger of extinction," which many designers say could jeopardize the city's status as a world fashion capital. The biannual Fashion Week shows "generate hundreds of millions of dollars in economic activity."
And here's a sobering statistic: it's estimated that only 5 percent of the clothing sold nationally is made in the U.S. (mostly in NYC and LA). But because those products are more high-end, they represent 24 percent of total national sales.
"If you don't have production in the garment center, there would be no reason for designers and suppliers to cluster in the district," said Barbara Blair Randall, executive director of the Fashion Center Business Improvement District. "We're down to 9,000 jobs."
The Bloomberg administration is now considering designating one or more large buildings in the garment center solely for clothing production, the Times reported. And a group of "industry shop owners" have formed a group called Save the Garment Center. Designer Yeohlee Teng summed it up: "Access to manufacturers is profound. After all, fashion is about timing."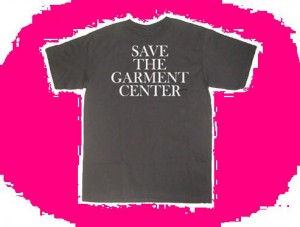 CNN joined the chorus with a feature on NYC's garment district and the loss of American manufacturing jobs. As in the Times piece, it credited the recession, rising rent and cheap labor overseas for destroying jobs in the garment district. And it cited an even lower percentage (3 %) of clothing sold in the States that is made here. The conclusion: "Manhattan's apparel manufacturers see their future in high-end small batch production that designers don't want to send overseas. It's work that would preserve the 9,000 manufacturing jobs in the garment district."
And then earlier this week I attended a panel during Independent Film Week here in Manhattan that was titled "Made in America: Putting a Human Face on a Changing Economy." It featured the filmmakers of two HBO films: "The Last Truck: Closing of a GM Plant" and "Schmatta: Rags to Riches to Rags." The latter film (airing October 19) covers the decline of NYC's garment industry. One of its subjects is Joe Raico, a fabric cutter who is president of Local 10, the cutters' union. He reiterated that "the garment industry was once one of the biggest employers in New York City. Most of those jobs are gone….How do I compete with someone who makes $5 a week? It's impossible."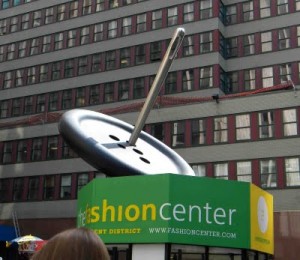 Regarding his involvement in the film, Raico said "I was very happy to be doing something for working people." Director/Producer Marc Levin added: "We used to admire working people…there were movies about them…We've got to redesign and refashion our values."
Designer Nanette Lepore echoed Levin's sentiment in a passionate piece she wrote last spring for The Huffington Post (which I wholeheartedly endorse) titled "Save the Garment Center." Here's an excerpt:
"I often think about the impact my family craftsmanship had on me. It gave me the tools I need to create and be fearless without limitations. Knowing that one has the potential to build something from a pile of raw materials is empowering. It's a gift that our children might not receive.
Eighty percent of my products are made in America in a 10 block radius from my office in New York City's Garment Center. They are assembled by skilled craftsmen who also immigrated here with a trade just like my family. I treasure being able to watch my product develop from a roll of fabric into a beautiful garment hanging in a shop. That garment was designed in my studio on 35th street, the pattern digitized on 38th street, then passed to a cutter around the corner, then bins of cut work trundled to a factory on 39th street, to then be sewn together. All the while each step being closely monitored by my staff.
My company alone keeps about 10 factories busy. Those factories make up about 300 jobs in New York City. However, the landlords, the restaurant and hotel union, and the developers want to annihilate our 100 year old Garment Center. Their vision is one sprawling, mall-type maze, from Time Square to Macy's. The homogenizing and "mall-i-fying" of our city continues. The landlords are pushing hard against the city to free up the New York City Garment Center zoning.
But what of the pride of a nation that can create its own goods? What of the fate of the designers, manufacturers and tradesmen who set up shop in the Garment Center? Who decides these businesses are not important? Fashion and its spin offs are important to the NYC economy. There has never been a more critical time to buy American made products.
Let's show the politicians that we are invested in saving our country's manufacturing system! Send your comments to Mayor Bloomberg's office. Take a stand!"