I attended a fascinating discussion and presentation at the Italian American museum last week in the heart of New York's Little Italy. It was organized for the just-published book, Anti-Italianism: Essays on a Prejudice and featured talks by two of my favorite scholars: Fred Gardaphe, Distinguised Professor of Italian American Studies at Queens College, and William J. Connell, a professor of history and the Joseph M. and Geraldine C. La Motta Chair in Italian Studies at Seton Hall University. Connell said  that he hoped the book would contribute to "the broadening of interest in Italian American history."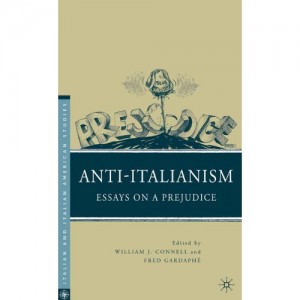 This is a subject I became interested in after I started production on my film and realized that there were few realistic portrayals of Italian Americans in the media. Most Italian American characters on TV or in the movies are little more than stereotypes.
I actually reported a story for the New York Times several years ago about the efforts of some Italian American groups who were protesting against the Mafia-type characters in the animated children's film "Shark Tale." This campaign is alluded to in a fascinating video of excerpts from an academic conference at Seton Hall University from which the book draws its material.
My goal for MEN OF THE CLOTH is that it'll be a nuanced portrait of Italian and Italian American craftsmen — and showcase them as the remarkable individuals that they are.